The Beach is a playscene available in Petz 3, 4, and 5. It is catagorized as home scene.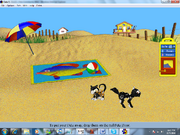 As with many other playscenes, there are Toyz found on the Beach that fit the theme. Toyz that come with the Beach include the beach ball, yellow, teal, and white shells, hermit crabs (which cannot be taken from the scene in any version), fishbones, and driftwood. Airplanes can be seen going across the sky occasionally, as well as clouds. The tide comes in every so often, which disturbs Catz and effects only some Dogz, depending on their breed.
Shells, fishbones, and driftwood sometimes wash ashore when the tide comes in.
The beach has its own sound effects, such as seagulls and ocean sounds. Some of these sounds were also used in the South Seas Island playscene, which can be found in Petz 4 and 5.
Changes in Petz 5
[
]
As with other playscenes, the beach went through several minor cosmetic changes with the release of Petz 5. The beach blanket has gone from having a red, blue, and yellow fish on it to being blue, red, and purple with shell designs on it. The umbrella is red, yellow, and green, rather than red, yellow, and blue as it was before, and it now has a shadow and a glossy look. The sand is now more detailed, and the fenceposts have been entirely redrawn, as well as the buildings in the background. The clouds and airplanes that drift across the sky have also been redone. The tide has also been redrawn.
Despite all of these changes, the layout of the scene has stayed the same.